So you have converted a video file to "*.mp4" and uploaded it to your iPod / iPhone.
But with a few extra steps, you can add chaptering to the file for easier navigation.
E.g. adding chapters to a combat video can allow you to quickly navigate to the track you want.
Here's what you need to do
1) Download DVBPortal MP4Muxer from
http://www.dvbportal.de/projects/mp4muxer/
2) Go through the video you want to add chapters, taking note of the time when each chapter should start.
3) Use a text editor and create a new file and name it "*.chap". e.g. "bc39.chap"
4) With the data you have in 2), create the chapter file using the following OGG chapter syntax
CHAPTER01=00:00:00.000
CHAPTER01NAME=Intro
"00:00:00.000" corresponds to the time of the start of the chapter in "hh:mm:ss.ms" format.
"Intro" corresponds to the name of the chapter which you want to give.
So that means for every chapter, two lines are needed.
A sample completed chapter file looks like this:
CHAPTER01=00:00:00.000
CHAPTER01NAME=Intro
CHAPTER02=00:00:45.000
CHAPTER02NAME=Track 1
CHAPTER03=00:07:48.000
CHAPTER03NAME=Track 2
CHAPTER04=00:12:25.000
CHAPTER04NAME=Track 3
CHAPTER05=00:17:47.000
CHAPTER05NAME=Track 4
CHAPTER06=00:23:34.000
CHAPTER06NAME=Track 5
CHAPTER07=00:28:26.000
CHAPTER07NAME=Track 6
CHAPTER08=00:32:27.000
CHAPTER08NAME=Track 7
CHAPTER09=00:39:03.000
CHAPTER09NAME=Track 8
CHAPTER10=00:45:49.000
CHAPTER10NAME=Track 9
CHAPTER11=00:49:52.000
CHAPTER11NAME=Track 10
5) Open and run the file "mp4muxe.exe" which you have downloaded from 1)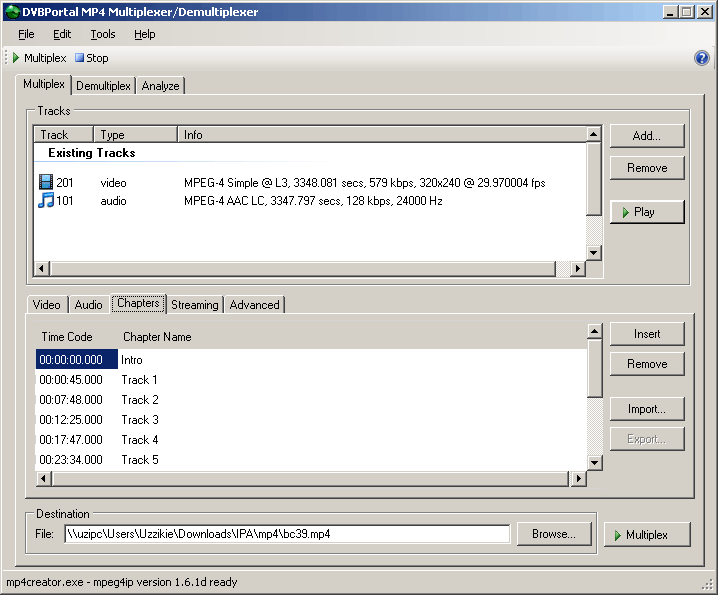 6) Under the "Multiplex" tab, click on the browse button to select the mp4 file.
(You need to create a mp4 file before you can add chapters)
7) Somewhere in the middle, you should see a "Chapters" tab. Click on it and click on "Import" and select the *.chap file you created in 4)
8) Click on the "Multiplex" button and a few seconds later you are done! Chapters successfully added!
9) Final step: rename the "*.mp4" to "*.m4v". E.g. "bc39.mp4" should be renamed to "bc39.m4v". If you do not rename the file, chapters will not show up.
Now transfer the video file to your iPod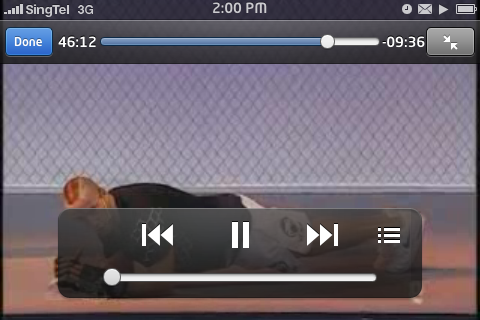 Now when you play back on your iPhone, you will see a new menu icon appear on the extreme right. That's the chapter navigation menu.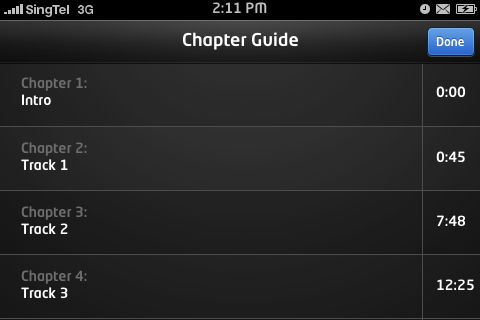 Spiffy eh?
Oh if you have a iPod Classic, chaptering does work too. But you will need to click on the ">>|" forward and "|<<" back button to navigate around.